Check
here
to catch up where we left off yesterday. To refresh your memory, below is the proposed layout and my inspiration photo.
So basically, we're going for white and marble with accents of chrome and dark wood. We plan to use marble on the vanity counter, floors and the tub surround and we plan to compliment the marble by using white subway tiles in the shower. I'd love to copy the marble on the walls that my parent's used, but it is an unneeded expense. Future homeowners won't miss the tile and it wouldn't add any additional value to the home. The subway tiles will hold up better than marble in the shower and will save us some money. This tile combination is pretty classic and should appeal to a variety of tastes. Here are tiles similar to what we'll use.
Source:
Home Depot
&
Lowes
Next up is fixtures. For the double sink vanity, I'd like something with plenty of storage, furniture legs (as opposed to the base of cabinets), marble counter, and preferably, constructed of a natural, dark hardwood. I found a few that I love.
These have the right look, but aren't made of hardwood and aren't a dark wood. Both can be found at Pottery Barn. They both also exceed the budget, each coming in at over $2200.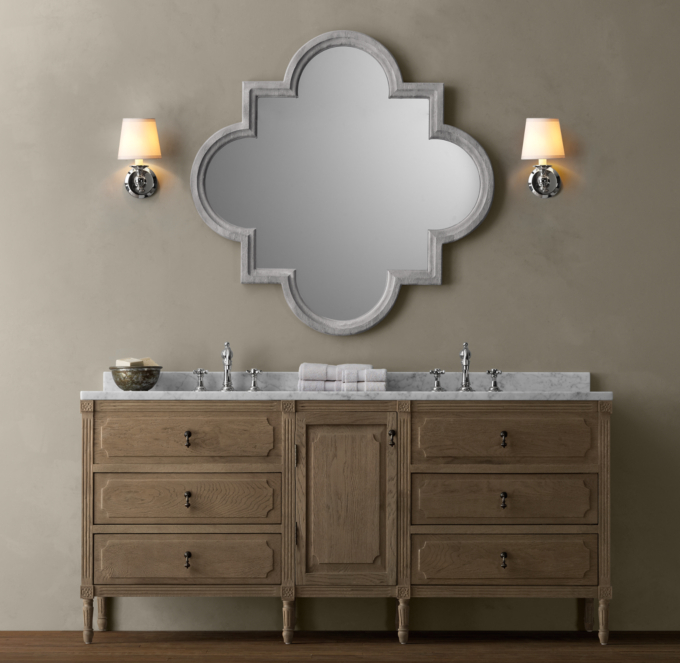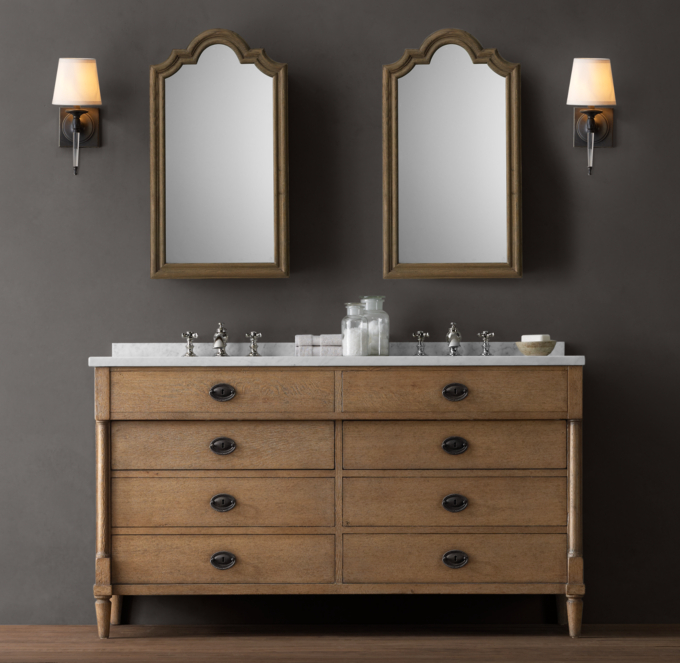 Both of these vanities, from Restoration Hardware, come much closer to meeting our needs. They're made of solid hardwood and have a natural wood finish. Unfortunately, they're also priced from upwards of $2,300.
Obviously, none of these will fit into our tight budget, so I continued my search on Craigslist. I thought I might find a used vanity being sold as the result of a renovation, or something that just wasn't quite right for someone else. I didn't have much luck finding anything besides contractor grade cabinets, until I started looking in the furniture section. The picture below has me hoping that, when the time comes, I'll be able to find a used dresser like this to work perfectly. With a little refinishing, a marble top and new knobs, this could be the perfect fit and it's priced just right at $100.
When it comes to plumbing fixtures, we're a little more picky. Beau prefers to use some of the higher end brands like Kohler, Delta, Moen and Toto, but even these brands usually have some reasonably priced options. These
sinks
and
faucets
by Kohler would work perfectly for the vanity. I prefer the look of a double handled faucet, but I like the convenience of the single handled. We also tend to stick with polished chrome because it comes standard on many fixtures, where it isn't possible to change. For instance, you can purchase a brass faucet, but the sink drain will still be chrome. They are possible to change or special order, but it's rarely affordable. For us, it's just easier and more cohesive to stick with chrome throughout. The same is true for finish color. We always stick with white, which is conveniently, always the cheapest.
Moving on to the tub. If it could have my dream tub, it would certainly be one of these.
Both of these tubs run around $1500. Since I won't be living here forever, I chose something a little more budget friendly. At one third the price, both of
these
look amazing, and have the same quality of construction as the two above.
We'll have a bath
faucet
with a hand shower attachment that will sit on the deck of the tub surround.
Next up is the shower. If you remember, my parent's shower has tile on 3 walls and a frameless glass door. Although there are cheaper options, such as prebuilt showers, we love the look of the frameless glass and think it's worth the price.
I found a reasonable price on a the
glass door
and we're still looking at options to replace the bath-side wall with another piece of stationary glass. Hopefully, I'll find something in our budget. And
shower hardware
.
We usually install
toilets
with "comfort height" and again, Beau prefers Kohler or Toto or other reliable brands. I'm sure he'd name off a few brands, but these are the two we've used in the past.
I'll save my lighting and other decor shopping for another day!